works with AthlonTM/Thunderbird systems.
Recommended for DuronTM systems.
Works with any Pentium III processor based system.
Works with any Celeron processor based system.
Automatic fan speed control (AFC) with built-in temperature sensor.

The power supply fan speed is regulated in reference to its internal temperature sensor. The low friction fan turns slowly in low temperature, reducing power consumption and greatly reducing fan noise. Conversely, the fan is allowed to spin up its speed in response to temperature increase. The fan speed ranges roughly from 1200 RPM to 3000 RPM.

The AFC feature, in general, extends fan life, cuts down energy consumption, and reduce the chance of over-heating. AFC is one step above the basic low friction "Noise Killer" fan deployment.
Built-in Triple Protection: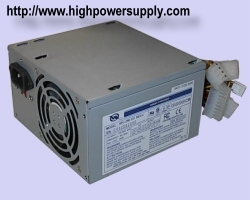 Output
Voltage
Load Range
MAX
Regulation
Ripple
Peak-to-Peak
Max.
1. +5V
25.0A
+5% ~ -5%
50 mV
2. +12V
10.0A
+5% ~ -5%
120 mV
3. -5V
0.5A
+10% ~ -10%
50 mV
4. -12V
0.5A
+10% ~ -10%
120 mV
5. +5Vs
1.0A
+5% ~ -5%
50 mV
6. +3.3V
14.0A
+5% ~ -5%
50 mV
*+5V +3.3V combined output should not exceed 125W

MTBF Life Expectancy of this model:
100,000 hours* (11 years & 2 months)

Operating temperature range:
10oC - 50oC (50oF - 122oF)

High standard of quality with FCC, UL, CSA, CE, TUV, SEMKO, NEMKO, FIMKO, DEMKO, and CB certification.